Toronto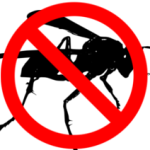 Wasp Removal Toronto. Guaranteed wasp nest removal by professionals. Licensed exterminators offering complete removal of wasp nests from soffits, roofs, decks, bushes, trees and other places. Commercial or residential removals. Don't risk getting stung, leave the removal to professional exterminators. Call for wasp nest removal in Toronto: 647-360-6809
At Wasp Removal Toronto, are adequately equipped and experienced to help rid you of those pesky pests that pose as a serious threat to the health of your family or employees. We assure you that we possess the perfect solution for your pest problems. Donned in appropriate wasp protection suits and equipped with some of the most effective extermination products, our experts at Wasp Removal Toronto are most reliable.
Pest perils
Bees, wasps, hornets and yellow jackets are sometimes underestimated due to their small size. Little do people know that these harmless looking extensions of nature could be harmful to health and could sometimes even be lethal.It is only when we realize that we are unable to roam around freely on our own property, due to the presence of these pests that we look for help to get rid of them. Additionally, when these insects attack humans or animals, the results may vary from skin reddening to rashes, to swelling and sometimes even death. The issue of these winged creations of nature is even more serious than it seems to be.
Wasps in summer
The summer season is perfect for the procreation of these insects. After a long winter's slumber, the queen feeds herself well during the spring season and prepares for procreation in the coming summer. While the queen looks for a location to safely build her nest undisturbed, human beings in the same surroundings are totally unaware of the dangers this will cause. If it is a small nest, it sometimes goes unnoticed. However, when the nest increases in size and the pests multiply, even roaming around in your own premises becomes a challenge. A single wasp sting could cause an unbearable amount of pain, sometimes even resulting in death. It is time to approach Wasp Removal Toronto, the minute you realize that the nest is posing as a serious health and safety hazard.
Permanent Extermination
If a human is stung by a single bee, wasp or hornet, there could be some slight swelling and irritation. But, the matter is more serious when there is an entire colony or nest involved. Wasps attack in groups if they are exposed to any kind of threat and this could cause some serious physical injuries to the individual, animal or group of people in concern.
Hence, we advise against attempting to eradicate these pests without the help of experts. Wasp Removal Toronto guarantees a safe eradication of these wasps and also ensures that the wasps won't return. So, for a worry free, safe and guaranteed removal of these pest problems, Wasp Removal Toronto is your answer! Call the professionals: 647-360-6809