Richmond Hill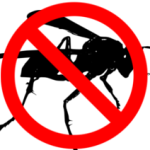 Wasp Removal Richmond Hill. Guaranteed wasp nest removal. Licensed exterminators offering complete eradication and removal of wasp nests from soffits, roofs, decks, bushes, trees. Don't risk getting stung, Have the professionals perform the removal. Call for wasp nest removal in Richmond Hill: 647-360-6809
The onset of warm and sunny summers tends to invite insects like wasps, bees, hornets and yellow jackets who build nests to procreate during this season, causing inconvenience to people residing in the area and also a serious threat to health.
But now you need not worry about these pests as you have Wasp Removal Richmond Hill to rely on. Our wasp extermination team provides you with a permanent solution to the problem of wasps. Equipped with adequate experience and extensive knowledge, our professional exterminators use fumigants and various other methods to carefully and permanently remove these pests, leaving your home or office a safe place to be or work at.
The Obvious Threat
Wasps, bees, hornets and yellow jackets must not be underestimated due to their size. Even though these insects are small in size, a single sting can cause quite a lot of harm to one's health. Most of us aren't even aware of an allergy we may possess to such insects, the stings of which could also be life threatening. These insects tend to get defensive and attack with the slightest onset of threat. At times, they may even sting if a human is in close proximity to their nest. This poses as a grave threat to your family, if the nest is in close proximity to your home; or your employees, if the nest is in or around your commercial complex. Wasps even tend to sting animals. So, if you have pets, these pests could endanger them too. Hence, it is advised to have their nest removed by our professional exterminators at the earliest.
Summer – Wasp Season
Winters are when the nests of wasps are most dormant. It is the warm season of summer that brings with it the newly procreated colony of wasps, bees, hornets and yellow jackets. If these nests are built in populated areas or places where human beings co-exist, they cause a huge risk to people around.
You definitely must not attempt to remove the nest of bees or wasps yourself, as these insects will feel threatened and attack you in clusters. Multiple stings can cause great harm to your health and hence this job is best left to the professionals.
Reliable Solutions
Wasp Removal Richmond Hill gives you the benefit of availing our services seven days a week. We assure to confront and resolve some of the most challenging wasp problems you may be faced with. Our professional technicians are adequately equipped to carefully remove wasp nests and also provide wasp control services. Whether it is the safety of your home or your commercial complex, we provide permanent solutions for the eradication and control of wasps. Have professional exterminators remove the nest safely. Call: 647-360-6809