PROFESSIONAL and GUARANTEED
Wasp control SOLUTIONS BY
THE EXTERMINATORS INC.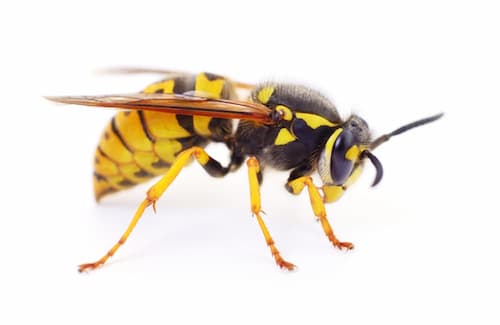 WE TAKE PRIDE IN OUR WORK AND SEE EVERY JOB THROUGH. IF WASPS RETURN WITHIN THE CONTRACTUAL PERIOD SO WILL WE.
If contractual pests return following service and within the guarantee and warranty period we will return at no additional cost. We work hard on keeping our customers wasp free. We guarantee every service and provide extensive warranties to make sure mice are gone and our customers are happy. Call Wasp Control – The Exterminators Inc. for professional wasp removal.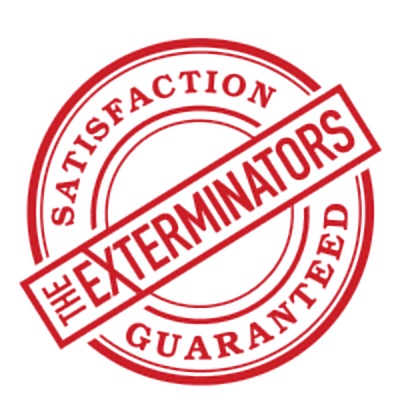 Wasp Removal Toronto solutions by licensed AND INSURED exterminators.
Guaranteed wasp nest removal by professionals. Licensed exterminators offering complete removal of wasp nests from soffits, roofs, decks, bushes, trees and other places. Commercial or residential removals. Don't risk getting stung, leave the removal to professional exterminators. Call for wasp nest removal in Toronto: 647-360-6809
At Wasp Removal Toronto, are adequately equipped and experienced to help rid you of those pesky pests that pose as a serious threat to the health of your family or employees. We assure you that we possess the perfect solution for your pest problems. Donned inappropriate wasp protection suits and equipped with some of the most effective extermination products, our experts at Wasp Removal Toronto are most reliable.
When should you require professional wasp removal services? When you do, what should you expect? Having an experience of one or two wasps in your home might not seem like a problem until you start noticing them in swarms. However, a single wasp in your yard means there are many more lurking around yet to be discovered.
Wasps could also become a major health risk factor when they sting you or other family members. There are over 30,000 species of wasps worldwide and 550 in Canada. During your summer events, wasp flying around could create a menace. But with the right professional wasp control service company you can have fun in peace. What then should you expect from the pest control company? This article provides a guide to help you make the right decision ordering a wasp removal service today.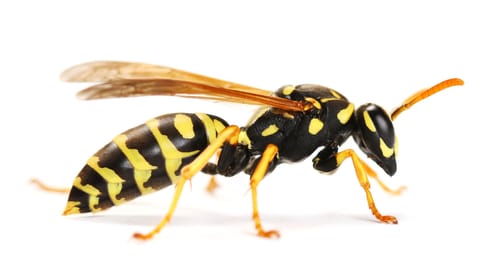 Wasps, hornets and yellow jackets are sometimes underestimated due to their small size. Little do people know that these harmless looking extensions of nature could be harmful to health and could sometimes even be lethal. It is only when we realize that we are unable to roam around freely on our own property, due to the presence of these pests that we look for help to get rid of them. Additionally, when these insects attack humans or animals, the results may vary from skin reddening to rashes, to swelling and sometimes even death. The issue of these winged creations of nature is even more serious than it seems to be.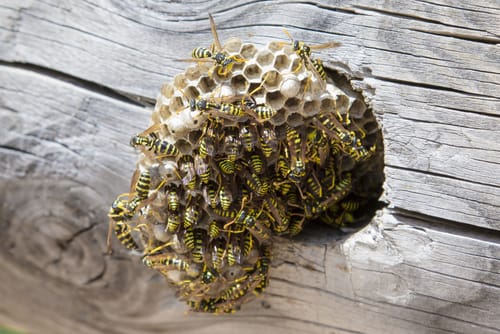 The summer season is perfect for the procreation of these insects. After a long winter's slumber, the queen feeds herself well during the spring season and prepares for procreation in the coming summer. While the queen looks for a location to safely build her nest undisturbed, human beings in the same surroundings are totally unaware of the dangers this will cause. If it is a small nest, it sometimes goes unnoticed. However, when the nest increases in size and the pests multiply, even roaming around in your own premises becomes a challenge. A single wasp sting could cause an unbearable amount of pain, sometimes even resulting in death. It is time to approach Wasp Removal Toronto, the minute you realize that the nest is posing as a serious health and safety hazard.
Call us today and our licensed and trained professionals will soon be at your doorstep with a guaranteed solution.
Paper Wasps
 
There are many kinds of paper wasps. Normally, paper wasps are very thin and have slight yellow discoloration on their backs with an all-black body. Their nests are built in combination with organic materials and salvia that has the resemblance of paper. That is where the name paper wasp comes from.
Mud Daubers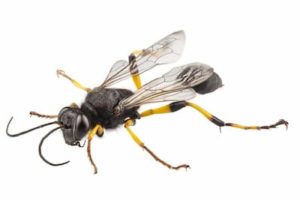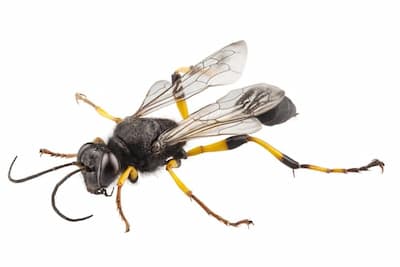 These wasps differ a lot from all other previously mentioned wasps. Instead of making their nests from a paper-like material, they actually build their nests from a combination of mud. They are longer than paper wasps and are usually 25mm in size. These slender wasps are solitary creatures and are most active during the spring. After the mud nest is completed which is cylindrical in shape, they hunt for insects, such as spiders which they put in every hole of their nest to feed their young with. 
Carpenter Bees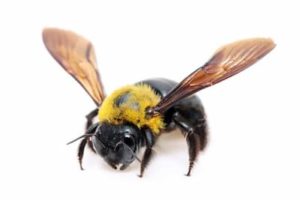 These carpenter bees look a lot like bumblebees. What is so unique about them is that these bees make their nests from digging tube-shaped holes in untreated wood not covered in bark. Their partner feeds on pollen and nectar and returns to their gallery to overwinter for it to emerge next spring. Male carpenter bees are only able to sting, whereas females are the ones who can sting.
Wasps are only able to build and use their nest for one season, after which, all the wasps will die off. New queens will emerge and continue in building their own colony in a completely newly-built nest in the warmer summer months. Until then, these wasps will then hibernate. An interesting fact is that wasp nests never get reused, and that wasp nests never get built close to another wasp colony.
What Professional Wasp Removal Toronto Service Do: What to Expect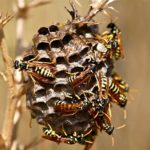 Having wasp in your yard or home could be a major problem. Around summer, spring and fall, they become livelier building their nest, going in search of food. Trying to deal with wasp yourself could result in a wasp sting or near fatality for members of your family. The cost of hiring a wasp removal Toronto company service could be scary. But you do not need to worry as some professional pest control agencies help tailor the cost to make them affordable.
Assessment and investigation
Professional wasp removal services start with an assessment of the situation on the ground. They try to check for the type of pest in your home or office and level of infestation to know the volume of work to get the wasp problem resolved permanently. It could be any of the common species in Canada to include; yellow jacket, hornet, paper wasp, etc. Wasp Control Toronto experts might need to check for entry points too.
Advice, Wasp Removal Plan and Cost
The professional wasp company will provide advice on the best measures to take in getting rid of wasp in your home or yard. They will also let you know if it requires just using chemicals or baiting and the length of time required to do a thorough job. Using the above analysis a price quote will be submitted to you.
Execution of the Pest Control Plan
Using the terms of the signed agreement, the professional wasp removal service company would set to work. The treatment would either involve the application of chemical, baiting system, investigation, barricading, etc. Sometimes, the pest control expert might need to reach out to some hidden places to locate wasp, climb or cut through surfaces and more. The pest control expert also knows the type of chemicals to use that are not harmful to plants and residents (humans and pets).
Our wasp removal professional also knows the best time to carry get rid of wasp. They also understand how best to remove and dispose wasp nest in line with CFAI regulations.
Assessment and Follow-Up
The pest removal service might require several follow-ups until the wasp infestation is over. The expert might need to re-apply wasp insecticide spray, empty traps, check for fresh wasp presence, etc.
The Process of Professional Hornet Nest Removal
Back in the day, you might have had to handle a hornet infestation on your own and risk the danger of being stung – whether you knew you were allergic to them or not. Fortunately, we offer professional hornet removal services that handle all of the stress of removing the hornet nest from your property. Our professional hornet and wasp exterminators work with you to thoroughly inspect and treat your property so that you can feel safe again, whether these insects have built a nest inside or outside of your home. If you've been dealing with a hornet's nest without any luck on removing it on your own, or possibly you're unable to remove it on your own due to an allergy, you may be wondering how our professional removal service works.
Hornet Nesting Dangers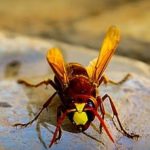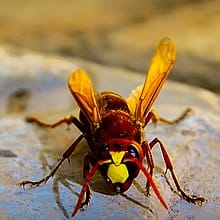 There are many possible dangers that arise when dealing with a hornet nest. Luckily, if you choose to hire our professional services you won't have to manage the danger. However, it is important for you to understand how threatening wasps and hornets can be if you were to leave their nest on your property. Hornets not only wreak havoc on the structure of your home by creating little holes in the wall, but they also have very little patience for anyone that disturbs them. This means that any slight movement to their nest or vibration or loud sound will put them over the edge making them become extremely aggressive and ready for an attack. If you happen to be within their range, they will go after you and you may not have enough time to get away. Unlike bees, hornets will continue chasing until their victim is stung – and they will sting multiple times without dying. The single sting of a hornet is painful and dangerous enough, especially if you are allergic to the sting. For this reason, and many others, it's important to have a hornet's nest removed immediately. Some individuals choose to hire our professional hornet nest removal service team to handle the nest and wasps.
How a Professional Handles a Removal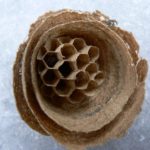 Hiring our professional wasp removal services are the safest and most effective way to handle a wasp infestation. Since hornets tend to be a more aggressive species, it's important that you hire someone that knows how to properly and safely handle the situation. Our pest control company has the proper equipment and insecticide products that are of higher quality than what you can find in any store. When our wasp control expert comes to your home for a hornet nest treatment, they will have special application equipment and professional insecticide treatments that they have been thoroughly trained to use. A professional will inspect the property for any signs of wasp or hornet nests and identify where the nest is and about how many wasps reside in the colony.
Once they have assessed the situation, they will prepare a plan for killing the hornests and removing the nest. A trained exterminator will have the correct knowledge for using the chemical treatments and apply the best and most appropriate treatment to the nest. The chemicals that are used by professionals ultimately kill the wasps on contact so the nest can be removed immediately. This saves you the trouble of having a few wasps linger around while you wait to have the nest removed at a later date. After the entire treatment is completed and the nest has been removed, your exterminator will talk with you and provide advice on how to prevent future wasp infestations. Overall, hiring a professional exterminator will always be the best choice for removing a hornet's nest. This ensures that you and your family are safe and not physically involved in the treatment process, and also that these wasps will be completely gone from your property so you can enjoy a pest-free outdoor area of your home. If you discover a hornet's nest in or around your property, contact a professional exterminator in your area to handle the removal process and give you back control over your home. The last thing you want or need is a wasp invasion on you and your family.
Why Hire Our Professional Wasp Removal Service
At Wasp Removal Toronto Solutions we are proud to serve the very same people that make Toronto our home. As native Torontonians, we feel humbled by the opportunity that we are able to help business owners and homeowners alike that make Toronto the vibrant city it is today. All of our technicians are licensed and accredited by the Ministry of Environment and have undergone intensive training to make sure they are prepared to tackle any type of infestation no matter the size no matter the extent. The members that make up the incredible team at Wasp Removal Toronto Solutions are truly in a league of their own as each crew member already has an impressive track record of combatting infestations far and wide for years thereby helping fellow Torontonians find the peace and comfort they once lost. 
The team at Wasp Removal Toronto possesses the most advanced arsenal one can find in the industry along with an equally impressive line of state-of-the-art formulations that are non-toxic and environmental-friendly as well. Their expertise combined with profound knowledge and access to high-quality equipment makes this team and every crew member on it unstoppable. Seeing that our roots are right in the heart of Toronto we feel that the greatest gift we can give our fellow-city dwellers is to take care of the city itself by using responsible and sustainable practices that contribute to a greener and cleaner city. This is the reason all of our efforts are focused on using the most responsible clean formulations one can find in the industry to date. In addition, we immensely care about the safety and well-being of each of our crew members. That is why they operate according to strict guidelines and regulations to ensure that best practices are always followed with safety in mind. As we continue to help Torontonians across the city from their wasp problems we just wanted to let you know how grateful we are to be able to leave a positive impact on the community we call home. At Wasp Removal Toronto Solutions we won't stop until we each and every wasp is no longer in the property. We literally go above and beyond to make sure that is the case, so when can we stop by to make it happen for you?

Permanent Extermination - Wasp Removal Toronto
If a human is stung by a single wasp or hornet, there could be some slight swelling and irritation. But, the matter is more serious when there is an entire colony or nest involved. Wasps attack in groups if they are exposed to any kind of threat and this could cause some serious physical injuries to the individual, animal or group of people in concern.
Hence, we advise against attempting to eradicate these pests without the help of experts. Wasp Removal Toronto guarantees a safe eradication of these wasps and also ensures that the wasps won't return. So, for a worry-free, safe and guaranteed removal of these pest problems, Wasp Removal Toronto is your answer! Call the professionals: 647-360-6809